Tools are at the center of the creation process, both shaping us in making and the objects we make. Their form and material influence the matter they can handle as well as the skills needed to utilize them. Very often tools, especially textile tools, also evoke stereotypical associations of who is using them and what is being produced with them.
This is a research into tools in the shape and aesthetics of traditional needle work tools, that incorporate the functionality of electronic probes, of being connectable and conductive. On a functional level, they can be used to construct pieces of textile crafts as well as to produce and test their electrical function while making.
On a metaphorical level, they allude to a possible alternative realm of creating electronic devices and components. Connecting the skills and aesthetics of textile crafting to electronic objects, we want to spark an exchange across making cultures, and enable diverse approaches for expression.
Packaging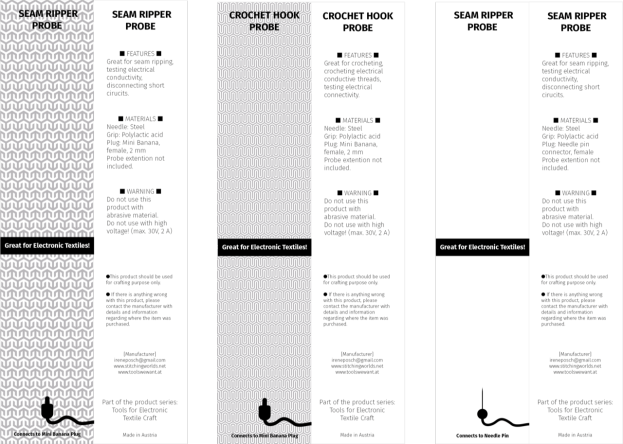 Packaging design for tools for eTextile crafts stating tools properties.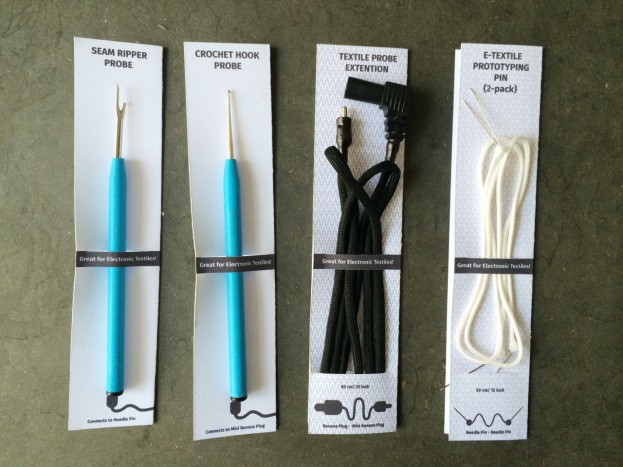 Prototypes
–
Caulfeild, Sophia Frances Anne and Saward, Blanche C. The Dictionary of Needlework: An Encyclopaedia of Artistic, Plain, and Fancy Needlework. 2nd Editions. London: L. Upcott Gill, ,1887. (p.128)