"In 1964, the TAJIMA group developed a multi-head embroidery machine. Since then, we have made expensive manually produced embroidery accessible and familiar to the peoples of the world, and added beauty to their lives.
What we have cultivated are extremely artisanal skills of "sewing", advanced engineering technology of "control" to be mechanically realized, and technology of "multi-head making" suitable for our originality and ingenuity for these "sewing", "control" and "multi-head making" skills and combine and nurture them to provide high value-added products so that our products can please our customers throughout the world."
"To cope with market demand and long term development strategy in China,TAJIMA EMBROIDERY MACHINES(China) Co., LTD. was established in 2001 in Jieyang, Guangdong, starting to manufacture "TAJIMA" knock-down machines in China. With TIL's technical support and the special know-how, the knock-down machines are produced by equivalent quality standard as the "Tajima" original product."
(tajima.com)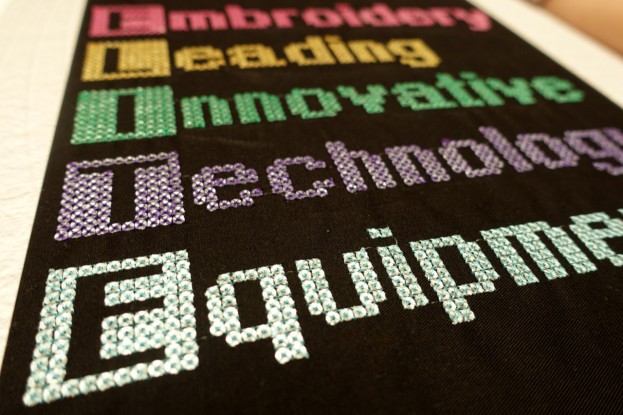 Sequin embroidery with different color threads in cross stitch fashion.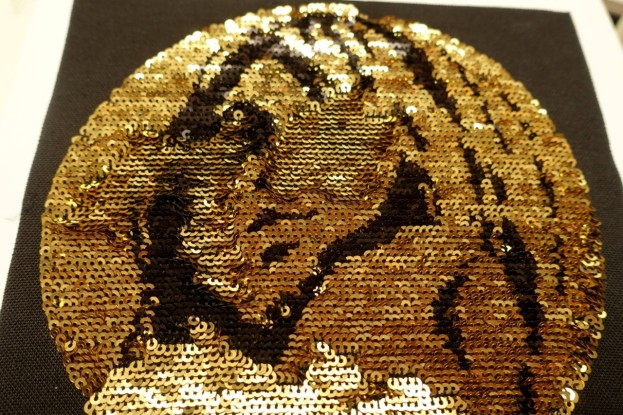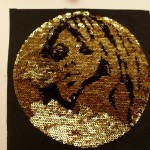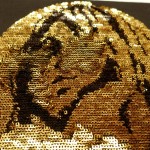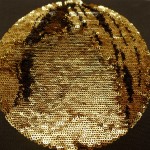 One-string mounting of the sequin, so the sequins can be flipped and change their surface direction when stroked upon. In this particular sample the black sequins have a golden color bottom side, that makes the image disappear when the sequin is flipped.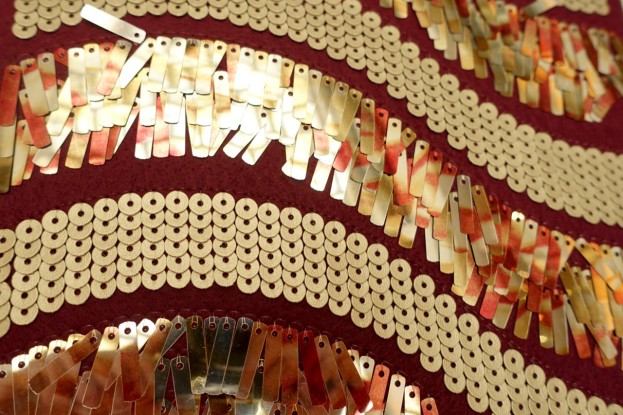 Mounting of odd-material (leather) and odd-shaped (rectangular) sequins.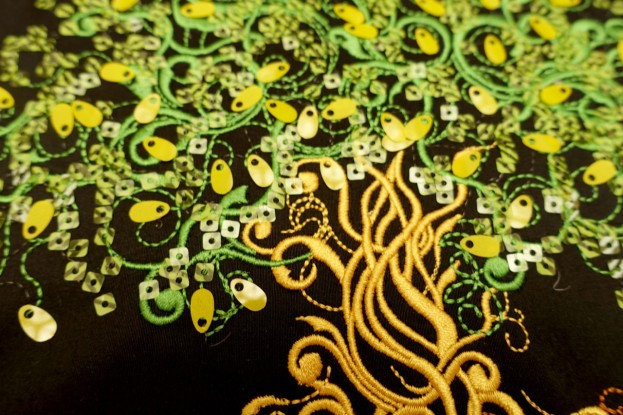 Combination of sequins of different sizes and forms within a single design. Making time for the whole design (not entirely visible here): 48 min.
Diverse modes of bead embroidery and schematic of possibilities to embroidery sequins. Printable sequins (after embroidery) on the right. Minimum sequin diameter: 2 mm, 1 mm hole dimension. Maximum sequin diameter/length: 22 mm
Good quality sequins feature a well centered hole and roll.