The 'Industrialisation Focus Group' at the eTextile Summer Camp 2015, consisting of Becky Stewart, Mili John Tharakan, Tincuta Heinzel and Ebru Kurbak, looked at ways to approach electronic textiles as mass-produceable products. Throughout the week-long gathering, the group discussed and identified challenges in bringing e-textile objects beyond prototype level and looked into potential strategies for production scale-up of e-textiles.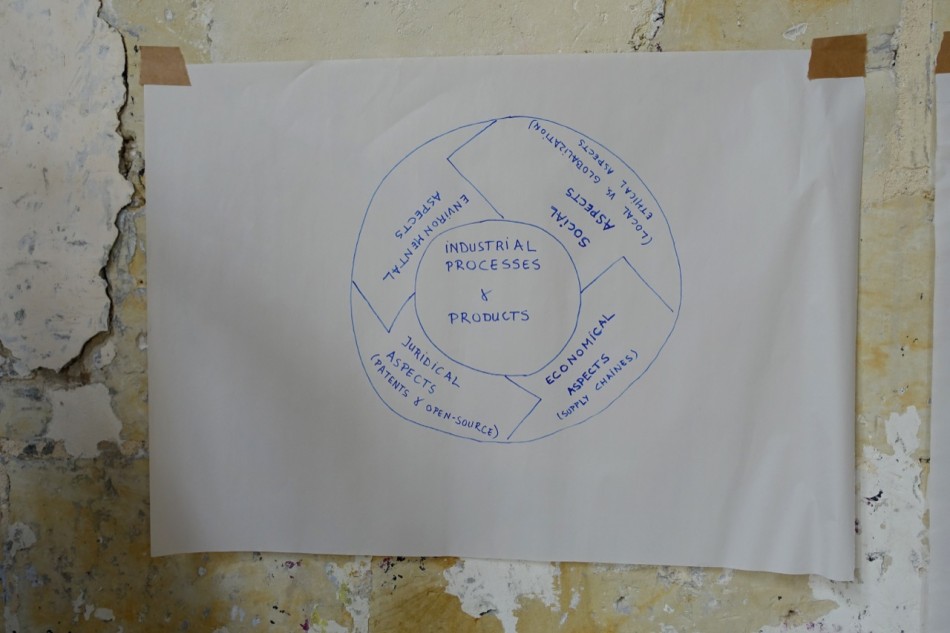 Discussions started by taking a closer look at some of the e-textile examples included in the E-Textile Swatch Exchange Swatchbooks and imagining the possible challenges the creators might face if they scaled the production volume from thirty swatches up to thousands.
Manufacture
Many challenges lie directly in the manufacturing process. Both textiles and electronics industries are large global industries however there is very little exchange between the two. Mass-producing an object that integrates both textile and electronic properties at material level is highly difficult since the necessary knowledge, materials, machines and skilled people are physically segregated. In what creative ways can we possibly intervene in the existing systems to be able to mass-manufacture e-textile products?
Step 1. The investigation started by mapping the two manufacturing processes separately: textile and apparel manufacturing and the manufacturing of electronic products.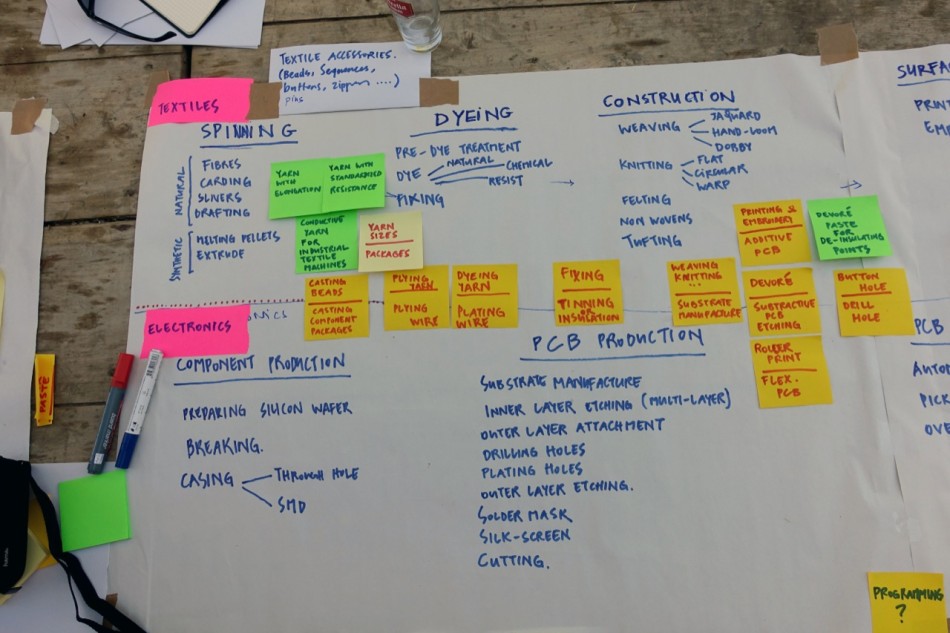 Step 2. What are the similarities between the two manufacturing processes, their machines and operations? Where can we potentially intervene in and create crossovers?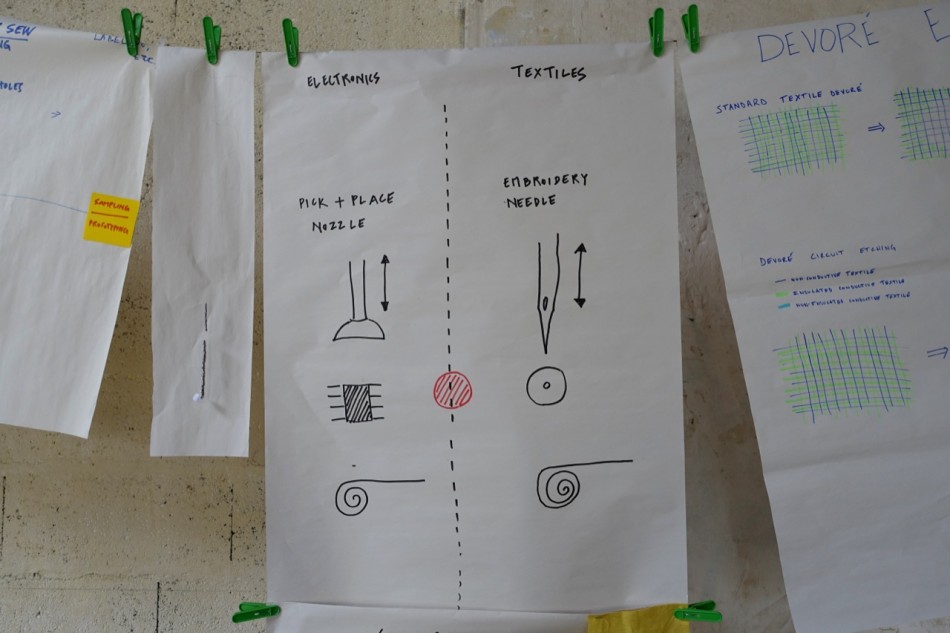 Step 3. What kind of new materials, machines and processes can we imagine to be placed at the identified key points?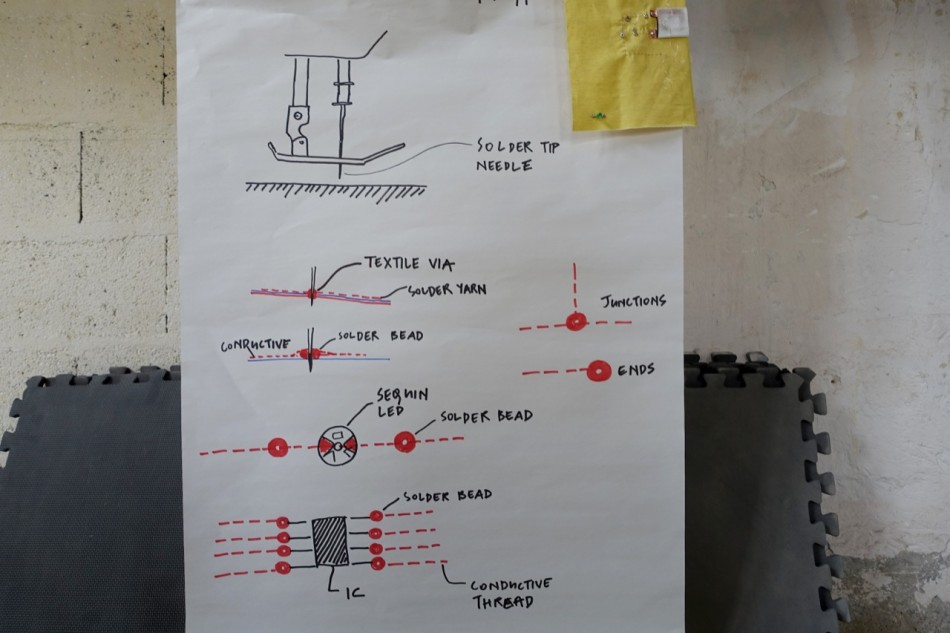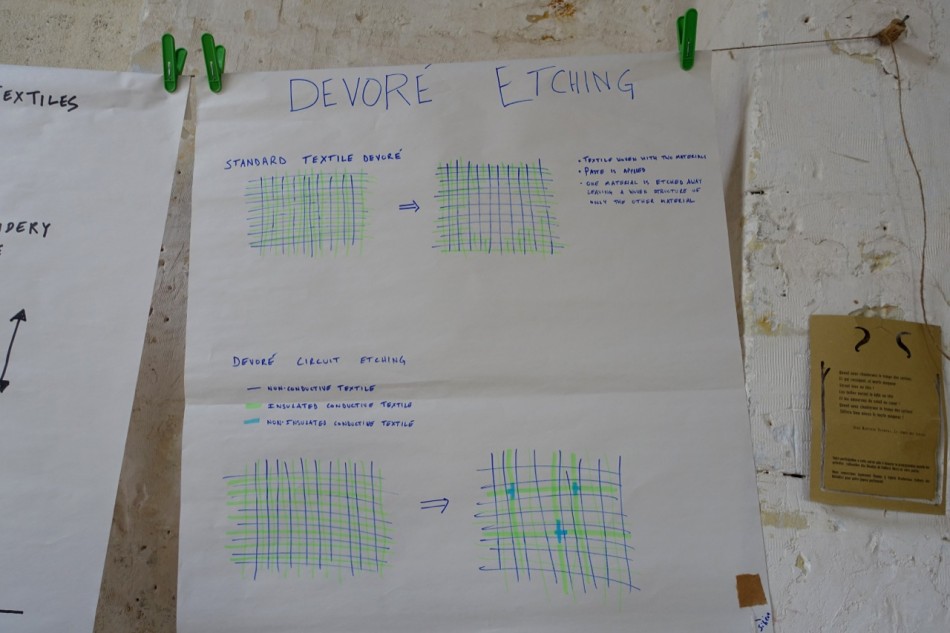 Beyond Manufacture
Challenges appear not only in the actual making of an e-textile product in large quantities, but also in the steps that precede and succeed the manufacturing process. Convincing companies, finding the appropriate funding, getting support concerning legal aspects, figuring out the supply chain, getting over personal fears and mental blocks, developing marketing strategies…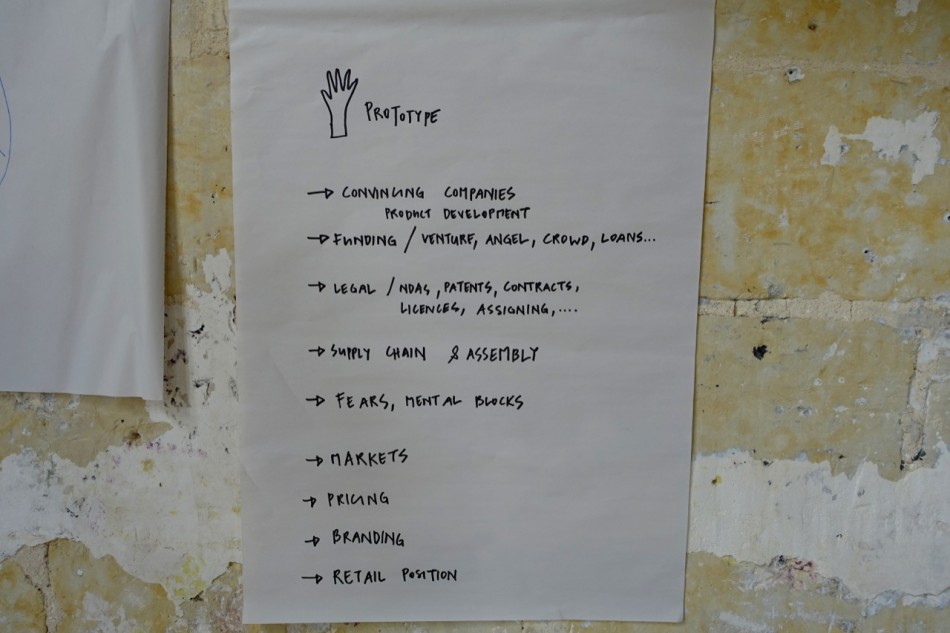 The topic was opened up for discussion in a larger group including all participants of the eTextile Summer Camp. Participants were invited to look back at their professional histories and identify the reasons that might have stopped them from turning one of their prototypes into an industrial product.
As a result, the list of challenges was extended through the participation of a larger group of creators of electronic textiles, however also many overlaps were identified. The discussion ended with a final exchange of ideas on strategies that can be developed to overcome those common challenges as a group.