The 'reach outs' in the context of the theoretical studies aims at testing our prototypes and speculations against the opinions of experts from crucially connected research fields. We seek for 'experts' that can form a valuable contribution and inspiration for the project.
Mark Miodownik is a materials engineer and Professor of Materials and Society at UCL. He is the author of the award winning best selling book Stuff Matters, a guide to the material world, and the science, history, engineering, and culture that underpins it. He is also the regular presenter of the science and engineering BBC TV programmes. Miodownik was recently included in the The Times list of the top 100 most influential people in UK science. In 2013 he won the Royal Academy of Engineering Rooke Medal.
 In 2014 he was elected a Fellow of the Royal Academy of Engineering and he won the Royal Society Winton Prize.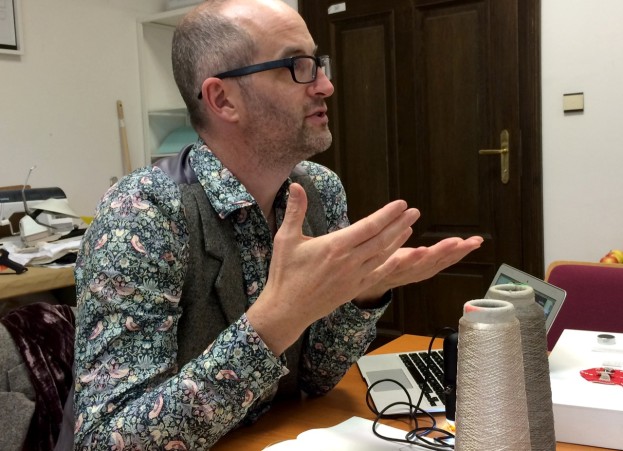 Mark Miodownik in the Stitching Worlds Studio.
Expert meeting
Tuesday, October 20 2015
Wednesday, October 21 2015
Stitching Worlds Studio
Vienna, Austria
The discussion focused on the core questions and recent investigations of the projects, specifically Magnetic Fibers and Crafted Logic. In the scope of this exchange we are interested to deepen the understanding of materials and their properties, the history of the materials we use, as well as the history of their manufacture processes. A guiding question is how far in history our crafted technologies could have been built.