To enhance the understanding of our own practice within a larger field of contemporary mode of artistic production – between hybrid arts and critical design – we seek the exchange with and critique from external actors in similar and neighbouring fields. The board of critical questioners is formed of individuals from major institutes that host trans-disciplinary work. Their task is to contribute by posing critical questions that are expected to help locate the project in the current discourse.
Emiko Ogawa is currently working at Ars Electronica and is responsible for the Prix Ars Electronics and the planning of exhibitions within Ars Electronica Export, Ars Electronica Center and Ars Electronica Festival. She also works as a creator and researcher and is the creative director of "h.o".
Hideaki Ogawa is working at the Ars Electronica Futurelab on intentional projects, art works and innovative research, as artist, curator and researcher. He is teaching at the University for Art and Design Linz. He started the multidisciplinary artist collective and activity of "h.o" in 2000, and is its representative and artistic director.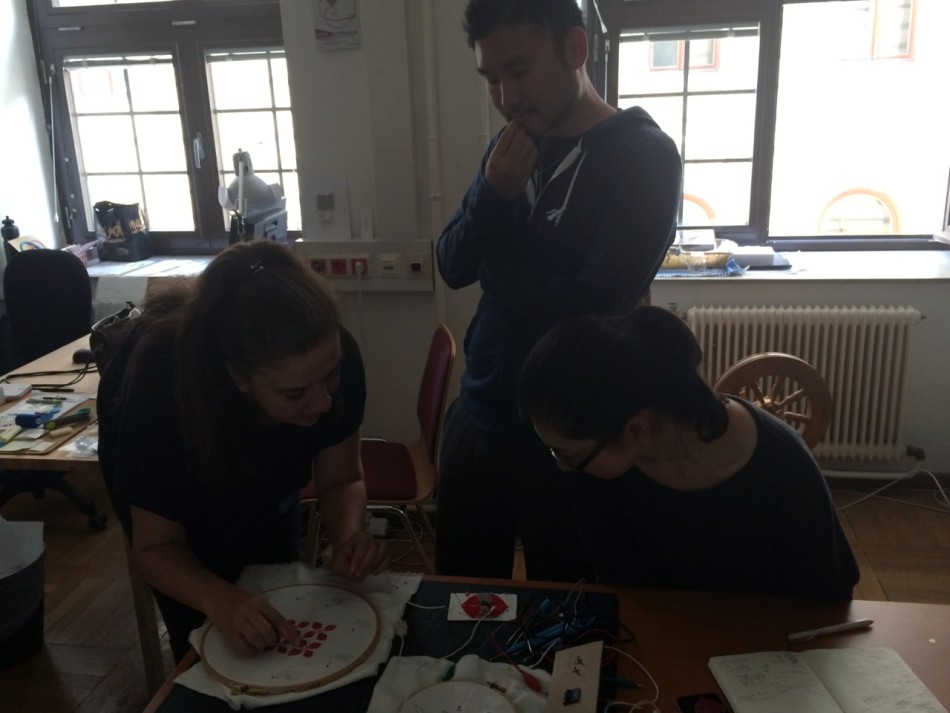 Emiko and Hideaki Ogawa visiting the Stitching Worlds Studio.
Critique meeting
Friday, June 26 2015
Stitching Worlds Studio
Vienna, Austria
Discussion focused on Phase 1 "Crafting Realities" and Phase 2 "Macro-Electronics" of the project. Main points presented and discussed were the connected research projects undertaken within the last year, with emphasis on magnetic yarn recording and tools, and the research into the crafting of logic elements, and the placing of these within contemporary  artistic trends and production.