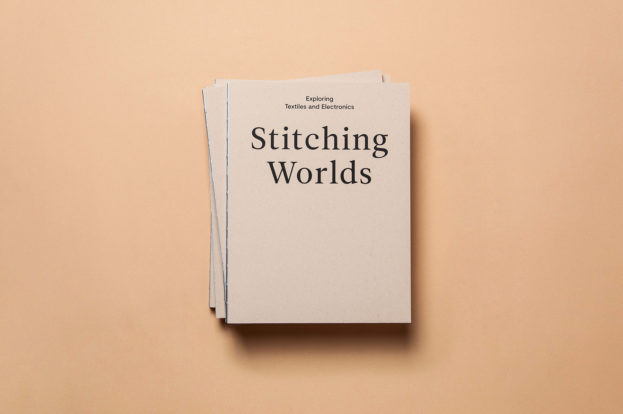 Photo: solo-ohne.com
Stitching Worlds: Exploring Textiles and Electronics
Edited by Ebru Kurbak
Revolver Publishing
Berlin 2018, 160 pages, ill., 25 x 19 cm, Softcover, English
ISBN 978-3-95763-422-1
Contributions by Onur Akmehmet, Ekmel Ertan, Lars Hallnäs, Tincuta Heinzel, Mili John Tharakan, So Kanno, Ebru Kurbak, Mark Miodownik, Matthias Mold, Jussi Parikka, Hannah Perner-Wilson, Irene Posch, Fiona Raby, Mika Satomi, Martin Schneider, Rebecca Stewart
What if electronics emerged from knitting, weaving, crochet, and embroidery? Stitching Worlds blends the territories of textiles and electronics by investigating textile techniques as controversial means for manufacturing electronic objects. Bringing together the results of a four-year arts-based research project, the book challenges our assumptions and expectations about technology by revealing unexpected potentials of often-undervalued knowledge and skills.
This book results from the arts-based research project Stitching Worlds carried out between May 2014 and June 2018 at the Department of Industrial Design 2, University of Applied Arts Vienna, and is published in conjunction with the exhibition titled Stitching Worlds, on view at the Angewandte Innovation Laboratory (AIL), Vienna from April 9 through April 27, 2018.
Funded by the Austrian Science Fund (FWF): AR 284-G21 in the Programme for Arts-based Research (PEEK).
The publication also was kindly supported by Europapier.
 *
Available at the following growing list of libraries:
The Library at the University of Applied Arts Vienna, Vienna (AT)
The Library at the Academy of Fine Arts, Vienna (AT)
Vienna University Library, Vienna (AT)
MAK-Bibliothek / The Library at the Austrian Museum of Applied Arts / Contemporary Art, Vienna (AT)
Library of the New Design University, St. Pölten (AT)
Winchester School of Art Library at the University of Southampton, Winchester (UK)

The University of Borås Library, Borås (SE)

Dokuz Eylul University Library, Izmir (TR)
Bilkent University Library, Ankara (TR)
Princeton University Library, Princeton, NJ (US)
Thomas J. Watson Library at the Metropolitan Museum of Art, New York (US)